PDTi has available for sale WHO approved COVID vaccines from three technology platforms, (inactivated, mRNA, recombinant protein). While availability of approved, quality, not expired vaccine is important PDTi recognizes that it is only part of the equation so we have created the "Redfield Model". The "Redfield Model" offers multiple phases of distribution assistance to help countries achieve a long-term, sustainable, vaccine strategy for current and future viruses. This distribution model can be applied to existing COVID vaccine inventory or newly acquired vaccines for COVID, flu or a myriad of other viruses.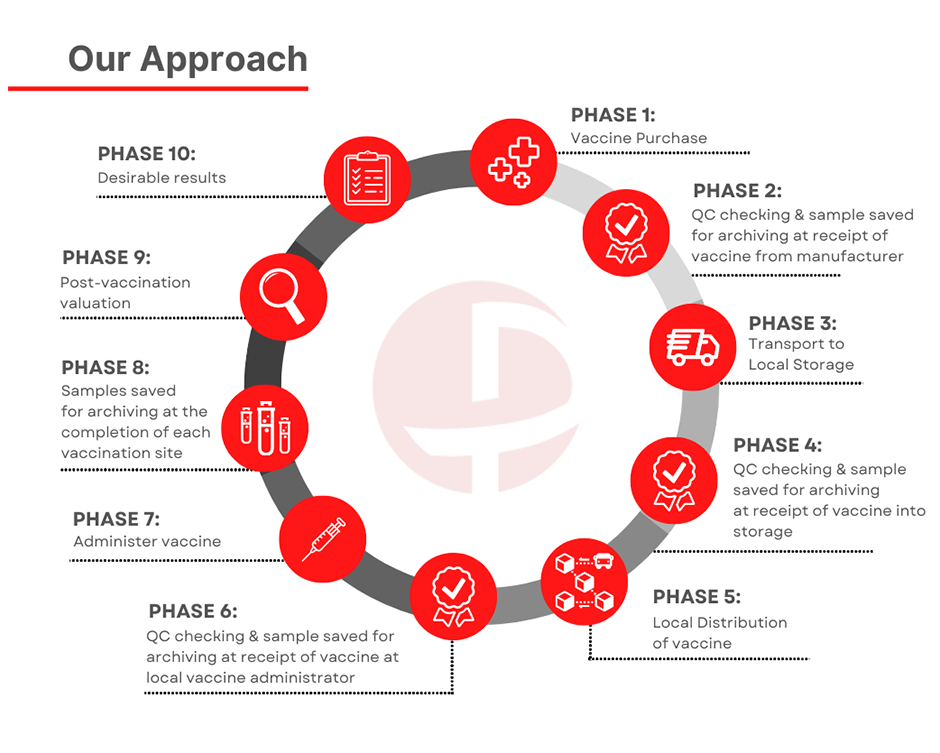 In-country distribution assistance
Our regional "field marshals" with their decades of in-country operational experience, will create and manage a country specific strategy to address "the last mile" of vaccine distribution and uptake working with locally assembled country teams.
In-process quality control and assurance
Provides In-process quality control and assurance that incorporates testing at four junctures. Can test a country's current vaccine stockpile to establish the quality.
Purchased vaccine arrival at country port of entry
Arrival at local distribution center
Departure from local distribution center
Post vaccination sample
Post-vaccination services
PDTi will provide metrics and evaluation for vaccines. Our services include a multi-platform immunity test that will gauge an individual's immunity and determine if they require a booster.
Education and Training
Education and training of local health administrators and populations addressing vaccine hesitancy, the length of immunity that the vaccines produce, and the need for a vaccine strategy focusing on immunity.